Chautauqua Literary and Scientific Circle [CLSC] Course, 1892-93, Complete Seven [7] Volume Set: Grecian History: An Outline Sketch; Callias: A Tale of the Fall of Athens; The United States and Foreign Powers; Greek Architecture and Greek Sculpture, with Many Illustrations; Classic Greek Course in English; Manual of Christian Evidences
Joy, James Richard; Church, Alfred J.; Curtis, William Eleroy; Smith, T. Roger; Redford, George; Goodyear, William H. (Introduction); Wilkinson, William Cleaver; Fisher, George Parker
75.00 USD


Purchase This Book Now





Demosthenes with English Notes, Part I. -- De Corona [On the Crown]
Demosthenes; Holmes, Arthur


10.00 USD

7.00 USD


Purchase This Book Now





The Decline and Fall of the Roman Empire, in Three Volumes: Vol. 1 - The History of the Empire from 180 A.D. to 395 A.D. / Vol. 2 - The History of the Empire from 395 A.D. to 1185 A.D. / Vol. 3 - The History of the Empire from A.D. 1185 to the Fall of Constantine in 1453 (Modern Library Giant G6, G7 & G8)
Gibbon, Edward
45.00 USD


Purchase This Book Now





Le Morte d'Arthur (Modern Library Giants)
Malory, Thomas; Bryan, Elizabeth


15.00 USD

12.00 USD


Purchase This Book Now





Oedipus the King
Sophocles; Bagg, Robert
3.00 USD


Purchase This Book Now





The Roman Goddess Ceres
Spate, Barbette Stanley
15.00 USD


Purchase This Book Now





Philo Supplement II [2]: Questions and Answers on Exodus (The Loeb Classical Library No. 401)
Philo; Marcus, Ralph
17.50 USD


Purchase This Book Now





The Roman Poets of the Augustan Age: Virgil
Sellar, W.Y.


40.00 USD

32.00 USD


Purchase This Book Now




31
The Roman Goddess Ceres
Spate, Barbette Stanley

1996 University of Texas Press

Near Fine Trade Paperback. 1st Printing



Price: 15.00 USD


C. Cornelii Taciti Historiarum Libri Quinque: Ad Fidem Optimarum Editionum Expressi. Cum Notis Barbou.
Tacitus, Cornelius; Carey, Matthew (Preface)
125.00 USD
87.50 USD
Purchase This Now
Quaedam ex Colloquiis Corderii, Fabulis Aesopi, & Colloquiis Erasmi Selectae. with English Translations, as Literal as Possible; to which are added A Few of Erasmus's Familiaria Colloquia, without Translation. Intended for the Use of Schools on this Continent. Approved of and Recommended by the Professors and Trustees of the University of Pennsylvania, of the College and Academy and also of the Episcopal Academy, both of Philadelphia, of Princeton College in New-Jersey, and of Washington College in Maryland; and for Them Printed, under the Direction of Mr. James Davidson, Professor of Humanity in the College of Philadelphia.
Clarke, H.; [Corderus / Cordier, Mathurin]; [Aesop]; [Erasmus]
450.00 USD
315.00 USD
Purchase This Now

The History of Rome: The Twentieth to the Thirtieth Books Inclusive, Literally Translated, with Explanatory Notes. in Two Volumes.
Livius [Patavinus], Titus [Livy]
200.00 USD
Purchase This Now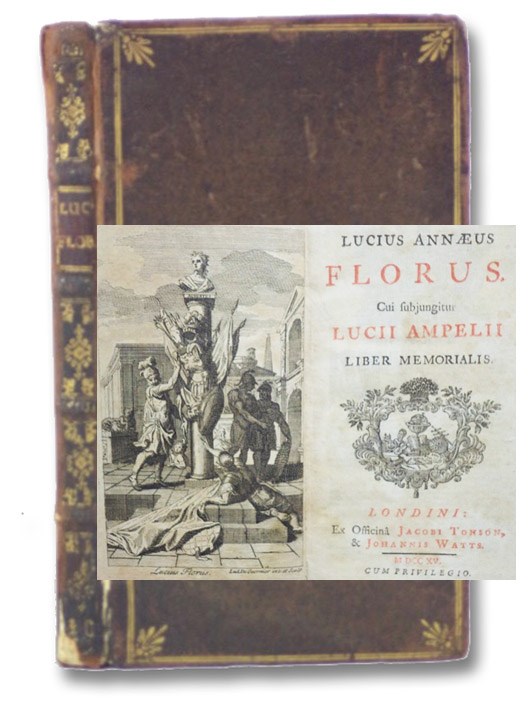 Lucius Annaeus Florus. Cui subjungitur Lucii Ampelii Liber Memorialis
Florus, Lucius Annaeus [Florus, Publius Annius]
125.00 USD
Purchase This Now



The Myths of Greece & Rome: Their Stories Signification and Origin
Guerber, H.A.
200.00 USD
Purchase This Now



Incunable: Single Leaf from Theophrastus' Peri Phyton Altion [On the Causes of Plants]
[Theophrastus]
425.00 USD
Purchase This Now



Chautauqua Literary and Scientific Circle [CLSC] Course, 1892-93, Complete Seven [7] Volume Set: Grecian History: An Outline Sketch; Callias: A Tale of the Fall of Athens; The United States and Foreign Powers; Greek Architecture and Greek Sculpture, with Many Illustrations; Classic Greek Course in English; Manual of Christian Evidences
Joy, James Richard; Church, Alfred J.; Curtis, William Eleroy; Smith, T. Roger; Redford, George; Goodyear, William H. (Introduction); Wilkinson, William Cleaver; Fisher, George Parker
75.00 USD
Purchase This Now



The Birth of Classical Europe: A History from Troy to Augustine (The Penguin History of Europe Volume I [1])
Price, Simon; Thonemann, Peter
50.00 USD
Purchase This Now