An Accurate System of Surveying; in which is contained, I. Decimal Fractions, in a plain, concise, and easy Manner. II. The Extraction of the Square-Root. III. Plane Trigonometry, rectangular and oblique. IV. An exact Method to cast up the Contents of Lands. V. Field Surveying. The Whole being performed without the Use of Scale and Compasses, or a Table of Logarithms. In which is given, some Account of the Variation of the Needle, and the Causes of its Attraction.
Moore, Samuel
750.00 USD


Purchase This Book Now





The Holy Bible, Containing the Old and New Testaments, Translated out of the Original Tongues; and with the Former Translations Diligently Compared and Revised.
450.00 USD


Purchase This Book Now





The Annual Register, or A View of the History, Politics, and Literature for the Year 1791
W. Otridge and Son
50.00 USD


Purchase This Book Now





The Annual Register, or A View of the History, Politics, and Literature for the Year 1781
Dodsley, J.
50.00 USD


Purchase This Book Now





Le Pitture di Bologna Che nella pretesa, e rimostrata sin' ora da altri maggiore antichità, e impareggiabile eccellenza nella Pittura, con manifesta evidenza di fatto, rendono il Passeggiere Disingannato, ed Istrutto. Dell' Ascoso Accademico Gelato.
[Malvasia, Carlo Cesare]


250.00 USD

175.00 USD


Purchase This Book Now





Voyage in Italie Pendant l'Annee 1789
Young, Arthur; Soules, Francois


500.00 USD

350.00 USD


Purchase This Book Now





Cronaca Veneta Sacra e Profana, o sia un Compendio di Tutte le Cose Più Illustri ed Antiche della Citta di Venezia. Rinnovata in Questa Ultima Edizione, e in Ogni Sua Parte di Gran Lunga con Nuove Aggiunte Accresciuta e Rimodernata, Tomo Primo e Secondo.
[Pacifico, Pietro Antonio]


500.00 USD

350.00 USD


Purchase This Book Now





Descrizione delle Pitture, Sculture, ed Architetture di Padova, con Alcune Offervazioni Intorno ad esse, ed altre Curiose Notizie, Parte Prima, Parte Seconda.
Rossetti, Giovambatista [Giovan Battista] [Giovanni Batista]


200.00 USD

140.00 USD


Purchase This Book Now




6
Quaedam ex Colloquiis Corderii, Fabulis Aesopi, & Colloquiis Erasmi Selectae. with English Translations, as Literal as Possible; to which are added A Few of Erasmus's Familiaria Colloquia, without Translation. Intended for the Use of Schools on this Continent. Approved of and Recommended by the Professors and Trustees of the University of Pennsylvania, of the College and Academy and also of the Episcopal Academy, both of Philadelphia, of Princeton College in New-Jersey, and of Washington College in Maryland; and for Them Printed, under the Direction of Mr. James Davidson, Professor of Humanity in the College of Philadelphia.
Clarke, H.; [Corderus / Cordier, Mathurin]; [Aesop]; [Erasmus]

1789 Philadelphia: Benjamin Franklin Bache.

Good Full-Leather. First Edition



Price:

450.00 USD

315.00 USD





20
Medulla Medicinae Universae: or, A New Compendious Dispensatory. Compiled at the Command of His Royal Highness the Duke, for the Use of the Military Hospital Abroad, during the Late War. By the King's Physicians and Surgeons, the Surgeon-General, and Apothecary-General, to the Army. to which is added An English Translation, with a Comment Subjoined to Each Prescription, with a Large Additional Appendix, and Directions Annexed Concerning Bleeding.
Theobald, John

1756 W. Reeve, at Shakespear's Head, Fleet-Street.

Good Full-Leather. Later Edition



Price: 325.00 USD


Quaedam ex Colloquiis Corderii, Fabulis Aesopi, & Colloquiis Erasmi Selectae. with English Translations, as Literal as Possible; to which are added A Few of Erasmus's Familiaria Colloquia, without Translation. Intended for the Use of Schools on this Continent. Approved of and Recommended by the Professors and Trustees of the University of Pennsylvania, of the College and Academy and also of the Episcopal Academy, both of Philadelphia, of Princeton College in New-Jersey, and of Washington College in Maryland; and for Them Printed, under the Direction of Mr. James Davidson, Professor of Humanity in the College of Philadelphia.
Clarke, H.; [Corderus / Cordier, Mathurin]; [Aesop]; [Erasmus]
450.00 USD
315.00 USD
Purchase This Now

The History of the Rebellion and Civil Wars in England, Begun in the Year 1641: With the Precedent Passages, and Actions, That Contributed Thereunto, and the Happy End, and Conclusion Thereof by the King's Blessed Restoration, and Return upon the 29th of May, in the Year 1660. in Three Volumes.
Edward, Earl of Clarendon
600.00 USD
Purchase This Now



A View of Religions in Two Parts, Part I. Containing an Alphabetical Compendium of the Various Religious Denominations, Which Have Appeared in the World; Part II. Containing a Brief Account of the Different Schemes of Religion
Adams, Hannah
75.00 USD
Purchase This Now


Geistliche Betrachtungen auf jede Täg des Jahrs (.). In vier Theil abgetheilt. Welche nun zu allgemeinem Nutzen aus dem Frantzösischen in Teutscher Sprach hervorgegeben P. Leontius Eggs, Ermehnter Gesellschafft Jesu Priester... Erster und Anderer Theil
Nepveu, R.P. Francisci [Francois]
50.00 USD
35.00 USD
Purchase This Now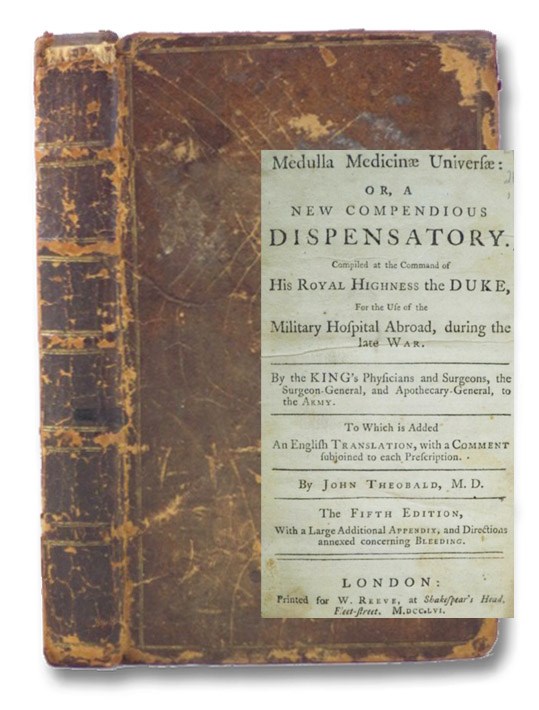 Medulla Medicinae Universae: or, A New Compendious Dispensatory. Compiled at the Command of His Royal Highness the Duke, for the Use of the Military Hospital Abroad, during the Late War. By the King's Physicians and Surgeons, the Surgeon-General, and Apothecary-General, to the Army. to which is added An English Translation, with a Comment Subjoined to Each Prescription, with a Large Additional Appendix, and Directions Annexed Concerning Bleeding.
Theobald, John
325.00 USD
Purchase This Now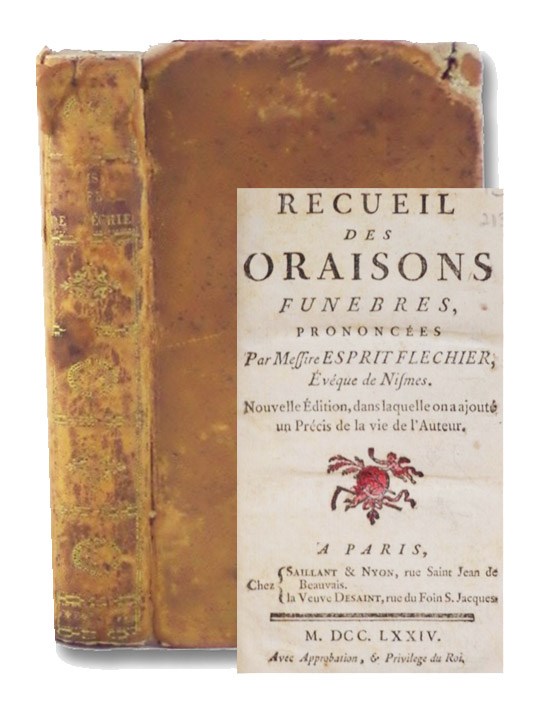 Recueil des Oraisons Funebres, Prononcees par Messire Esprit Flechier; Eveque de Nismes. Nouvelle Edition, dans laquelle on a ajoute un Precis de la vie de l'Auteur.
Flechier, Esprit
150.00 USD
105.00 USD
Purchase This Now

Evidences of Revealed Religion.
Mendon Association (Massachusetts.)
60.00 USD
Purchase This Now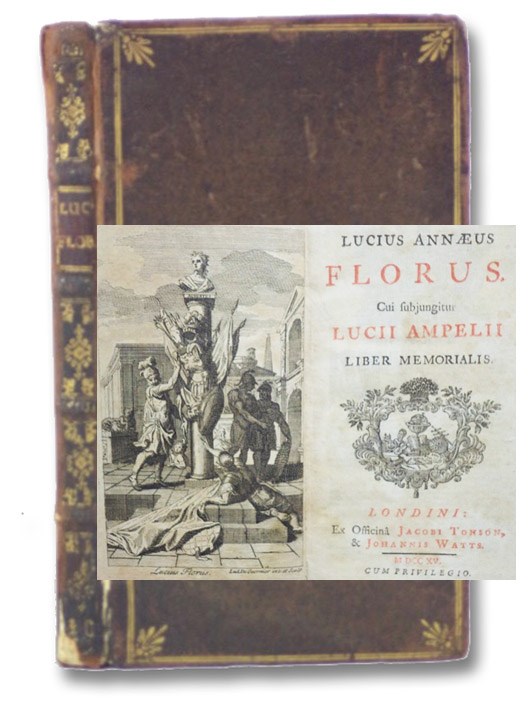 Lucius Annaeus Florus. Cui subjungitur Lucii Ampelii Liber Memorialis
Florus, Lucius Annaeus [Florus, Publius Annius]
125.00 USD
Purchase This Now